Ditch WordPress, Shopify and Magento
No coding needed! WEBPRO has taken away all the head scratching and replaced it with an easier content management system you control. If you just need a press release or blog section, we have a simple inexpensive solution just for that. If you need ultimate page management, no worries.
WEBPRO has kept this CMS / SEO solution private for over a decade. It's what helped our company and others maintain a competitive edge.
Selling products online?
Our product manager is super easy to use. Magento and Shopify are overkill for most cases and the support from the other side of the world is slow to respond as our clients have discovered. Our CMS, SEO and Lead Generator allows you to quickly change prices, product description, details, images, PDF's, MP3 files or videos with ease.
No more waiting! Make changes yourself or we'll do it for you for free. The type of cataloging we do for content and products are SEO friendly. Most eCommerce systems are slow, expensive and worse you'll never own it. Not with WEBPRO! The program is yours to keep. No strings.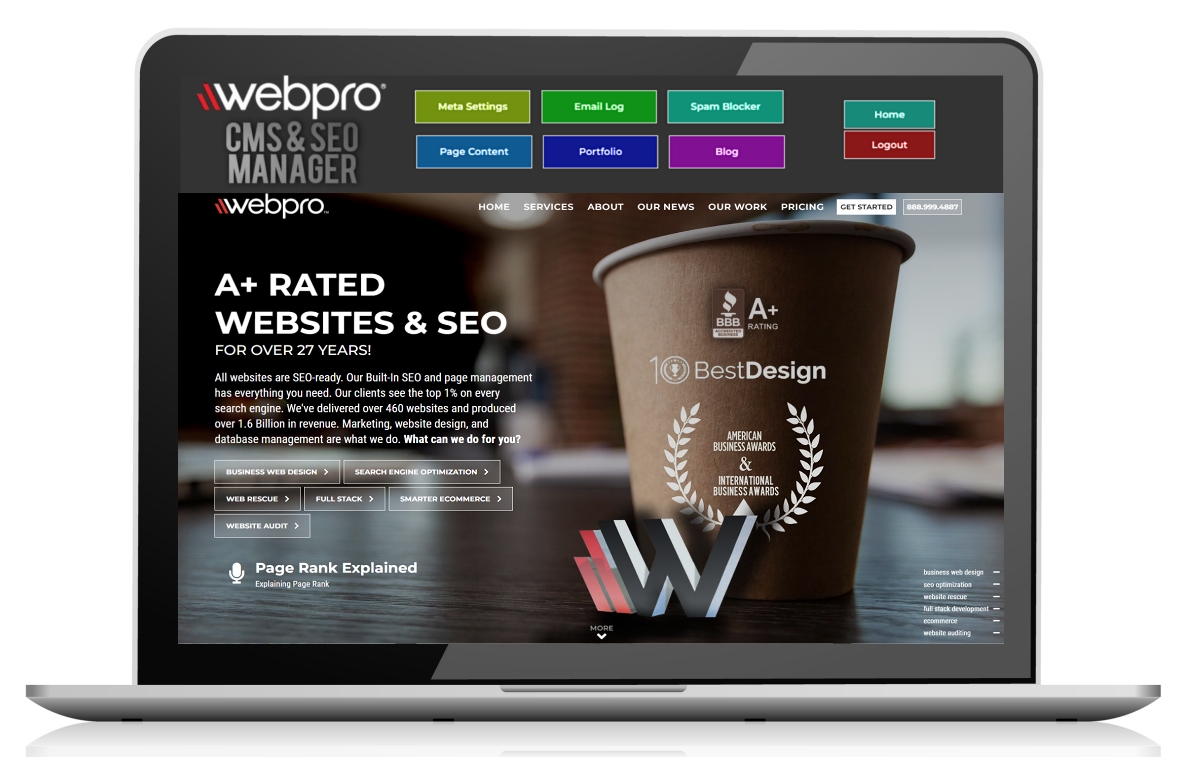 We have a META manager for each page that will get search engine attention. You'll be able to test Google for acceptance and get higher if not first page placement using our platform. If you're thinking it's GoDaddy, WordPress, Yoast, Square Space or WIX, you would be wrong.
DEMO Our CMS & SEO Manager
We can prove it works in real-time, just ask for a DEMO. Our system has earned WEBPRO The American and International Business Award of the Year for competing organically against AutoZone, Advanced Auto, Walmart, Interstate Battery, O'Reilly, Harley Davidson, Verizon, and Forbes.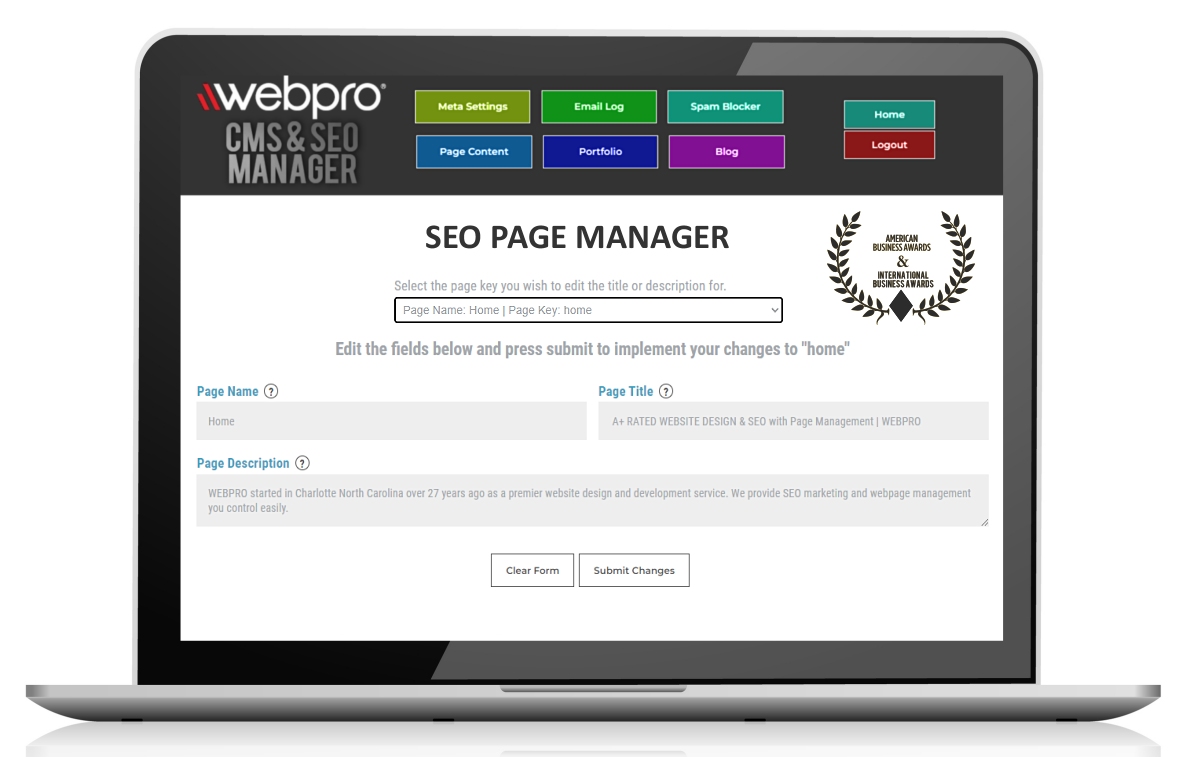 Slash Your PPC / AdWords Marketing Budget
Whether it's content you are competing against or product placement, you'll be hard-pressed to find an easier, cheaper content and product management system.
SPAM Control
Tired of unwanted solicitors abusing your contact forms? We made a hole just for them to go in and you control the trigger words. Never miss a lead again. Our database keeps track of every lead where you can reply from the admin screen or your desktop. We've also taken it a step further where they can opt-in so you can market via your favorite email campaign solution like Constant Contact or MailChimp.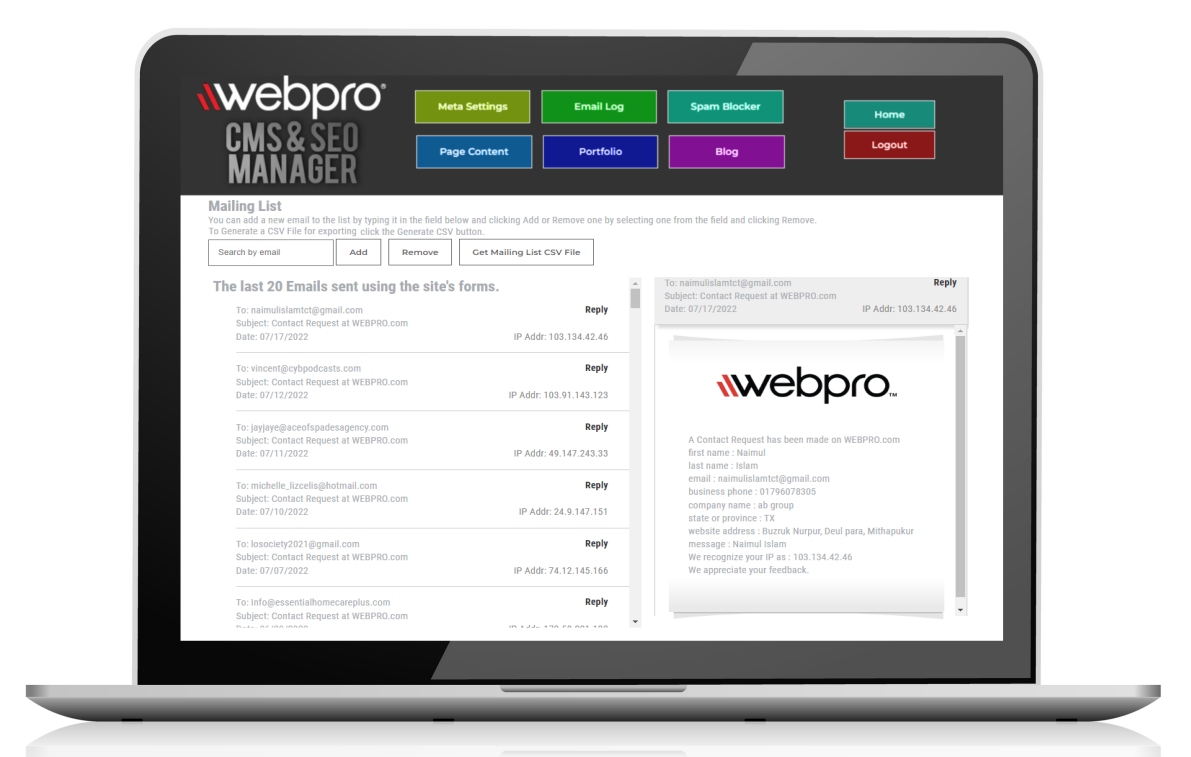 If you are interested in obtaining any of these goals,
1. Cut your PPC Budget
2. Own your website cheaply
3. Gain total content control
4. Generate more leads
5. See higher visibility
6. Block solicitors

All you have to do is fill out a form and request a demo.