Project: BatteryLookup.com
Website Design, Database Development, E-Commerce, Brand Creation, Banner Design
Languages: .Net
Target Segment: Automotive : Motorcycle, ATV, Scooter, Snow Mobile, UTV, and Watercraft Battery Replacement
Marketing Objective: Achieve 100% Organic for all OEM, and Battery Brand Names in all Search Engines
Distribution: North America, Canada, South America
Marketing Savings: $276,400.00 Yearly
Monthly Traffic : 117,000 Unique
Sales: Undisclosed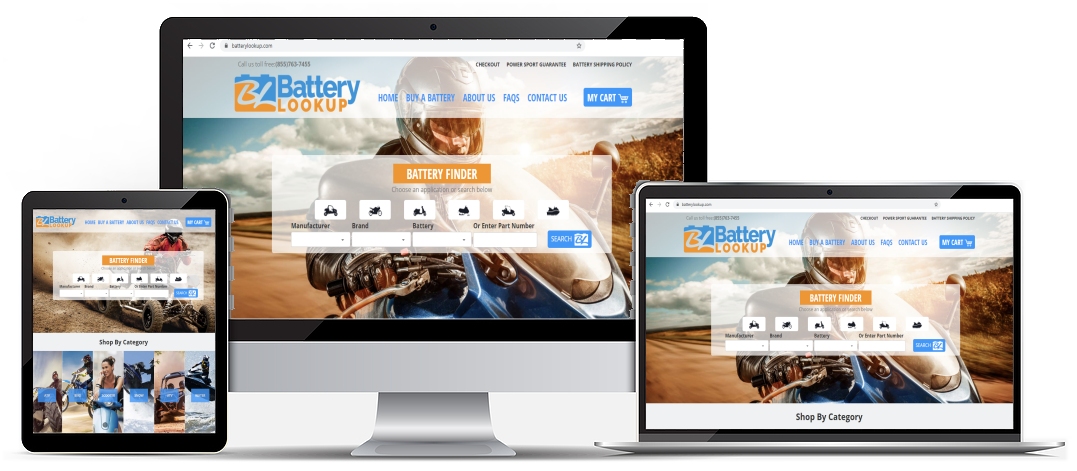 In order to compete with Walmart's Battfinder.com, the BatteryLookup.com project would have to list all the major OEM (Original Equipment Manufacturer) brands like Harley-Davidson, AutoZone, Batteries Plus, Advanced Auto, AC Delco Duracell and of course Walmart. There are dozens more to be sure.
The website would have to provide a competitive Good, Better, Best pricing scenario to replace the prospective customers existing battery and include free shipping! That's a daunting task considering batteries aren't exactly light.
Finally, so the OEM giants like Harley-Davidson wouldn't have a cow, using their name or battery model numbers, the website would have to clearly state all battery products were replacement batteries only.
Since the dataset and schema was design and developed a certain way, 98.8% of all the products in the database if searched will be found on the first page on Google competing and beating OEM and Amazon sales!
In fact, there are multiple stacked organic listings on the first page.
Below are a few examples of the major brick and mortar OEM competitors alongside our client listing in the one percentile of the search engines.